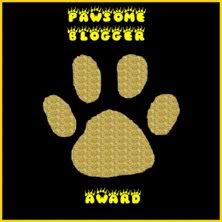 I am honoured to accept it and to nominate 8 other furry friend blogs that I enjoy following. There are so many wonderful dogblogs it's hard to pick just a few but here are some of my favourites:
1. Rubie the schnauzer girl in Australia who always makes me smile.
2.Wyatt and his sister Stanzie 2 Airedales enjoying life in Oregon - gardening tips included.
3. Dante and Daisy-Boo (Labradoodles) and their giant 'brother' Sampson the great Dane - fun and games in Cumbria UK
5. Tooki and her miniature schnauzer Coco and her 'brother' Wawa - always informative and interesting blog with great photos of the dogs, people & customs in Sabah, Malaysia
6. Daisy and Bella 2 scotties in Australia with their 'sister' Roxy - another blog to make you smile!
7. Matilda the wirehaired dachshund who enjoys life in Japan and blogs about her days out and local customs.
8. Muffin - a very cute little ShihTzu who lives in Singapore - she is very sweet :-)
Check them out if you do not follow them already!
And more details of my schnauzer date to follow....